I woke at 2:30am to the familiar sound of my alarm. I rolled out of my sleeping bag and onto the floor of the tent, wondering why I had thought this would be a good idea. Outside it was still completely dark, but low tide isn't quite concerned with how well you can see it. I made it to Rialto Beach, in Washington's Olympic National Park, at 3:00am and began my hike to Chilean Memorial. I arrived at precisely 4:15am, just 1 minute before my tide table told me that the water would reach 1.1 feet below the MLLW (mean low low water).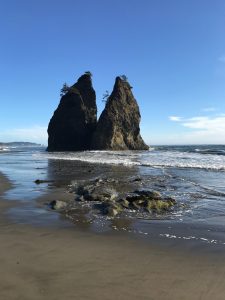 Above: Rialto Beach, WA at a slightly more reasonable time of day.
This marked the first collection of seven that I conducted over the course of seven days this August, to obtain specimens across the west coast of the United States. My stop in Washington was followed shortly by a collection near Depoe Bay, Oregon and five more in Northern and Central California, the last being near the small town of Cayucos. At each site I scoured the rocky intertidal in search of Mytilus californianus (California mussel), Chlorostoma eiseni (black turban snail), Littorina spp. (periwinkles), Lottia gigantea (owl limpet), Nucella spp. and Acanthinucella spirata (dog whelks). These species represent some of the breadth of life histories found in the intertidal, including different feeding types, diet preferences and reproductive modes. My goal is to determine how these factors affect their associated microbial communities ("microbiomes").
In order to ensure that all tissue and microbes were properly stored for subsequent analysis,  and to keep out any potential contaminants, I set up a mobile microbiome lab in each of my campsites (pictured below at Mora Campground, WA and Patrick's Point State Park, CA). This picnic-bench-made-lab-bench approach uses some simple tools to maintain sterility; including saran wrap, aluminum foil and a small camp stove.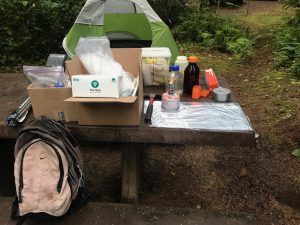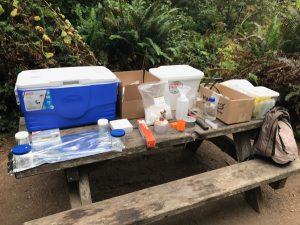 Though it required many early mornings and transportation of an entire lab, this trip was an incredible experience. I was able to collect all of the organisms I was looking for, process them in a sterile setting and see some of the coast's most beautiful beaches. Thanks to Dr. Kaustuv Roy for helping me coordinate this trip, all of the permitting agencies throughout Washington, Oregon and California for allowing me to conduct this study and the Jeanne Marie Messier Memorial Fund for their financial support.