Typically the first thing you notice about the south Mission Bay jetty is the thick organic smell wafting over from the San Diego River estuary immediately to the south.
The second thing you notice as you pull off into the dirt lot is the many pairs of glowing eyes reflecting in the car headlight – pier cats and a smattering of skunks.
On an evening in mid January however, if you had pulled up to the jetty a few hours after sundown, the first thing you'd have likely seen was four guys all clustered around an open trunk filled with coolers, swabs, vials and of course, lobster.
The first collecting trip of the lobster microbiome research project went swimmingly. We pulled up to the site a bit after dark and, after getting things ready, I hopped in my wetsuit, strapped on my catch bag and weight belt and prepared to grab some bugs (the fisherman's term for spiny lobster). After collecting some baseline sediment and water samples, my dive buddy Gene joined me and we started down the jetty in search of lobster. The incoming tide made for decent visibility and within a short while, I'd bagged the first two samples for swabbing. After dropping them off to Alex and Dr. Roy at the car, I headed back in for more. After a few more lobsters were bagged, we were all on dry land swabbing lobster. In total, we retained four adult lobsters and swabbed a solid seven.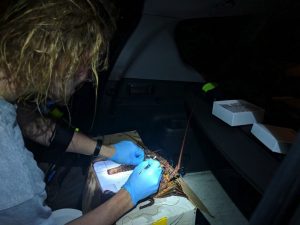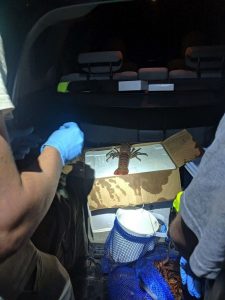 For this project, locations on four major body sites were swabbed: carapace, antennae, abdomen and back leg at the gill intake. These sites were selected because they provide different physical mediums for microbes to colonize and they represent a sizable spread of the lobster's external anatomy.
The next step for this lobster microbe project is to dissect these lobster and sample the brain, gut and gill tissues.
Stay tuned!
Ian